Saturday, August 19, 2006
I love anagrams and I love playing scrabble (though I can't play it so well). If you love anagrams as much as I do, then you would enjoy the short list below:

ANIMOSITY ~ IS NO AMITY

DORMITORY = DIRTY ROOM

PRESBYTERIAN = BEST IN PRAYER

ASTRONOMER = MOON STARER

DESPERATION = A ROPE ENDS IT

THE EYES = THEY SEE

GEORGE BUSH = HE BUGS GORE

THE MORSE CODE = HERE COME DOTS

SLOT MACHINES = CASH LOST IN ME

ELECTION RESULTS = LIES! LET'S RECOUNT

MOTHER-IN-LAW = WOMAN HITLER

SNOOZE ALARMS = ALAS! NO MORE Z'S

A DECIMAL POINT = I'M A DOT IN PLACE

THE EARTHQUAKES = THAT QUEER SHAKES

ELEVEN PLUS TWO = TWELVE PLUS ONE

PRESIDENT CLINTON OF THE USA = TO COPULATE HE FINDS INTERNS
If you have your own list of anagrams, do post them in the comments section. By the end of next week, I will make a special of post all of them, with direct links to the blogs (or websites) of the respective contributors. More so, the one with the longest list of anagrams will get a link space on my "Blogroll" section.
Now, keep the anagrams coming!
Go to Wikipedia, the free encyclopedia, for more on Anagrams (but make sure you do not post any one from there here).
Thursday, August 03, 2006
15. - What is Peace, Israel and Lebanon?
Once again, the virtually perpetual Middle East cataclysm escalates.
Hezbollah launches rockets into Israel
Lebanon death toll 'reaches 900'
Hezbollah threatens to strike Tel Aviv
Fears grow as Tyre runs short of food, fuel - and hope
Israel readies new push into Lebanon
Israel launches new airstrikes on Beirut
Ahmadinejad: Destroy Israel, end crisis
France circulates a revised resolution
All these headlines, and more, are as disquieting as they sound, and not mere oft-employed journalistic hyperboles. The blogosphere has also gone agog and is on fire with posts upon posts on the Israel – Lebanon conflict. However, I just don't feel like blogging much on the Middle East situation, which I don't see a near successful end to until we all tell ourselves the truth. I see hypocrisy, hidden agenda and ulterior motives staring us in the face, even when we try to shrug these notions off.
Each day, I boot my PC only to be greeted with a dismal grimace of headlines on the deplorable extent of the Middle East crisis, and all I do is pray that real peace reigns someday and the wanton destruction and killings end.
Today, a friend sent me this internet movie called "What Is Peace", and I thought you might enjoy it like I did, the war in the Middle East and beyond despite.
Wednesday, July 26, 2006
14. - Ceteris non Paribus.
Once again, I find myself in one of those situations where I wonder why we ever make the expression, ceteris paribus. I am obviously not very happy today. Why? Today, I am supposed to be posting Nigerian songs on my music blog, The Music Dome. However, up to this moment, I still cannot be able to do so because the songs are in Windows Media Audio (wma) file format.
Fortunately, I was able to download a freeware wma to mp3 converter. Unfortunately, I still could not convert the wma files to mp3 because some codecs are not present on the PC and the DirectX driver needed to be upgraded to version 8 or higher. At present, I am downloading DirectX version 9. I hope that solves the problem, else I could upload the songs in wma format, good a thing the file sizes are not big.
Let's see what happens by the end of the day (ceteris non paribus).
Have a great day all!
Tuesday, July 25, 2006
13. - Zinadine Zidane and D's Cove.
Early this morning, as I was checking the sites from which my blog got the latest referrals, I discovered that some came from MSN search (particularly, search.msn.ch) with the keyword, Zinadine Zidane. I swirled over to the search page immediately and typed in 'Zinadine Zidane', hit the 'return' key, and there was my blog listed among the search results (though on the second page). It was actually my last post on Zidane, "Le Voilà, Le Roi!". What more honour could I have paid to my hero, a true human hero? I would duff my cap for him any day.
Also, I discovered that on MSN Search, my music blog, The Music Dome, was listed among the search results for "Bow Wow and Lil Romeo Beef"... aww! Anyway, I guess, in less than a month of blogging I might gradually be setting off on the journey of web littering, toeing the line of JFZ and also borrowing his term. Just some of those little things that keep me encouraged and happy.
Good morning all!
Monday, July 24, 2006
Ok, I don't really like bothering my readers with the trivialities of my daily life, which can be too boring sometimes. However, since this is a personal blog that discusses general issues, especially with a personal perspective, I guess I could bore you with a little of how I spent my weekend. Well, nothing that much spectacular. I hardly have enough time for outdoor social activities except on Sundays. Hence, yesterday (Sunday), I had to look for where to go.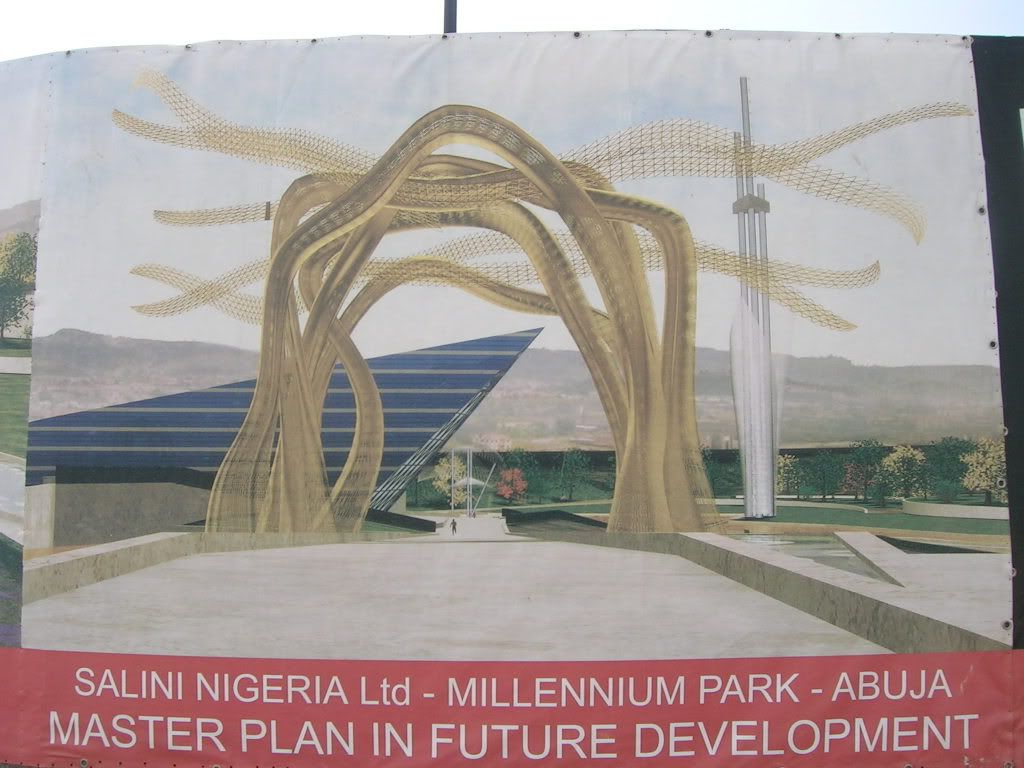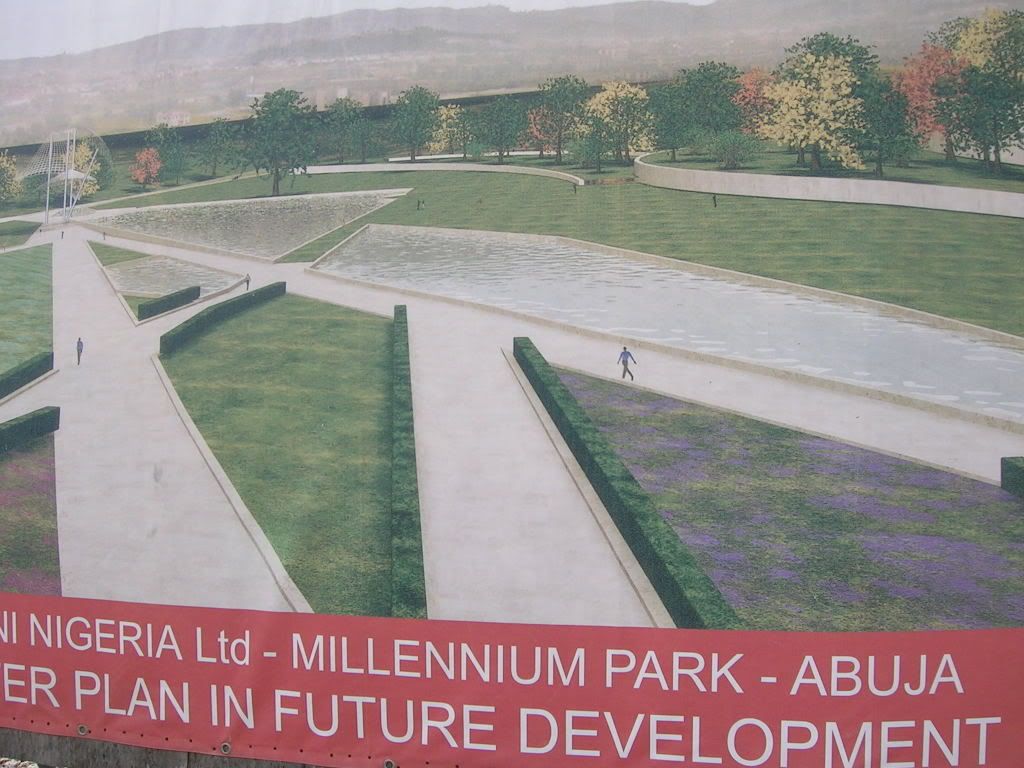 Finally, it happened that I had to go and pick two brothers to accompany me to where I had to go, the Millennium Park, Abuja. Actually, the Millennium Park seems to be my favourite place here in Abuja. It was commissioned by the Queen of England few years ago. It is a nice place to hang out and enjoy the freshness of nature, with lush grasses and flower hedges and splendid water fountains. Sometimes, especially during the festive seasons, the place gets so crowded you could hardly take a photograph without having an intruding figure in the snapshot. At such periods, famous Nigerian hip-hop acts are wont to make appearances there under the auspices of companies like Guinness Breweries Plc, Nigerian Bottling Company (NBC) Plc, etc.
However, the Millennium Park is actually in its primary stage of development, yet most of us enjoy just being at the place. The pictures above show what the place is actually supposed to look like when eventually it is completed. At the present, the pictures of the masterplan and the actual view of the park hardly have any similarities to the ordinary eyes. As of the moment, the only structures there are the fountains. None of the proposed buildings, which would include a state-of-the-art museum, is in sight. In fact, there is yet no foundation for any of the buildings, and should one make one's predictions on the basis of the 'normal' Nigerian leadership mentality, there might never be any building foundation in the near future. The Millennium Park might as well enter the 'Hall of Shame' of uncompleted projects.
What is more, I was so dispirited three weeks ago when I visited the park and found out to my dismay that the big water fountains were not functioning, and the same was the case with the little water fountains that adorned the pathways. Each of the little fountains has two yellow lights beside it, and the combination of the water gushing up and down and the gleam of the lights make a picturesque sight at late evenings and at nights. At night, the little fountains actually look like flames of fire at both sides of the passageways. Unfortunately, none of the fountains were still working when we visited the place yesterday. The millennium Park is more fun and bubbling in the evening, but I had to leave with the two guys I went with before twilight because I could not stand the scene at night there without, at least, the little fountains.
How I wish those little fountains are restored before my next visit to the Millennium Park, Abuja. I really like the Millennium Park, even though nothing much has been done there in terms of construction. I just enjoy its natural feeling. However, I adore those little fountains and wish to see them back on soon. They lighten up my spirits beautifully!